Feature limits
Some Ortto features have set limits which are documented below. The limits are subject to change, and could change at any time.
If you reach a limit you will usually be notified by a user interface (UI) message. Depending on the limit you have reached, you may be able to increase the limit by upgrading your Ortto plan.
You can find data retention limits under Ortto's Data retention policy.
---
Plan-dependent limits
| Feature | Aspect | Limit |
| --- | --- | --- |
| Dashboards | Number of dashboards | Depends on your Ortto plan inclusions |
| Reports | Number of reports |  |
| Campaigns | Number of campaigns |  |
| Widgets | Number of widgets |  |
| People | Number of people (contacts) in your customer data platform (CDP) |  |
| Audiences | Number of audiences in your CDP |  |
| Custom activities | Number of custom activities |  |
How to view your plan's feature limits
To view your plan's feature-specific limits, head to your account's Plan & billing page.
On the Overview tab you'll see your key plan inclusions under Plan on the left, and your feature limits in the usage sections on the right-hand side, including a link to View all usage.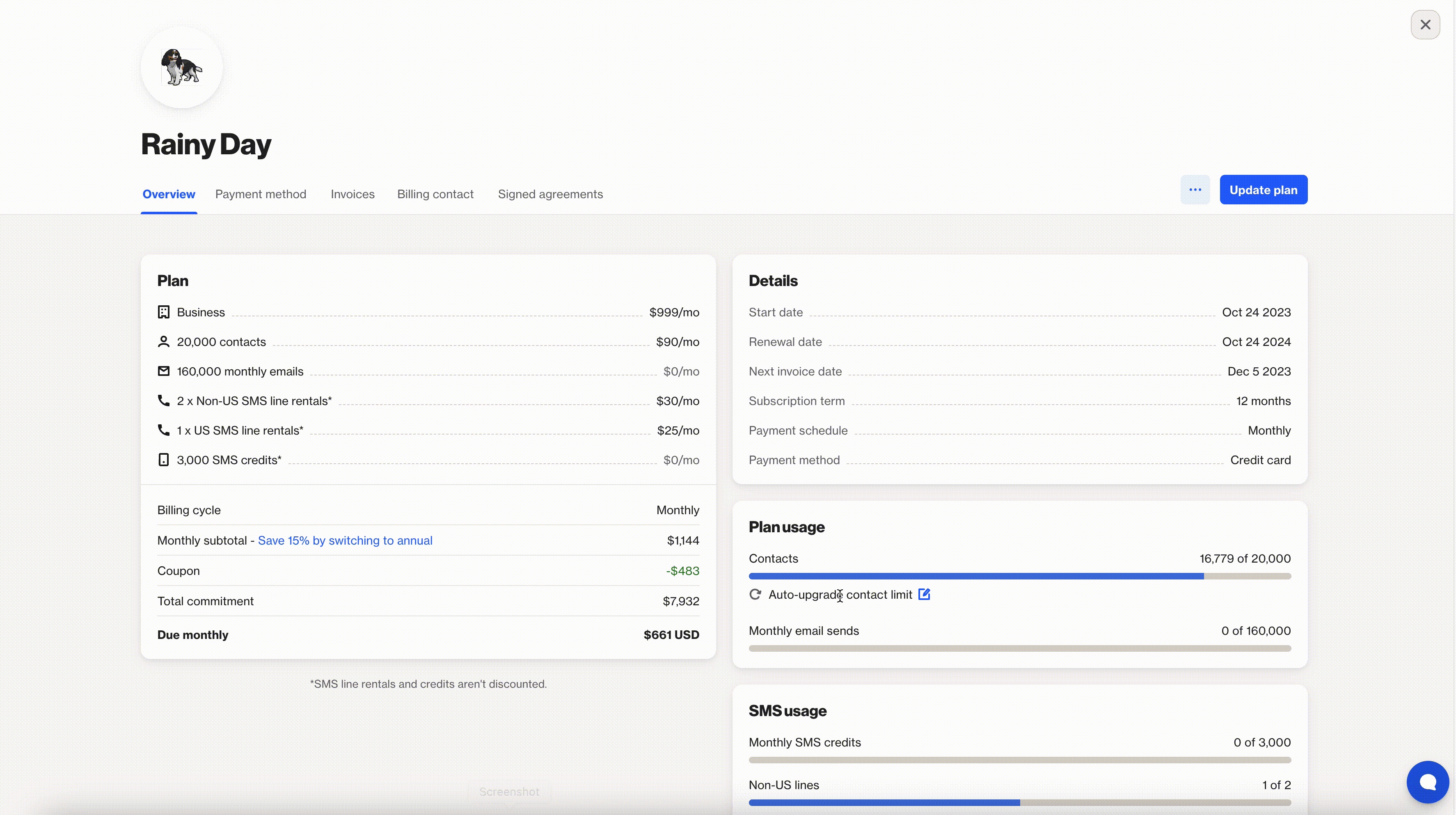 ---
Feature-specific limits
| Feature | Aspect | Limit |
| --- | --- | --- |
| Dashboards | Reports per dashboard | 30 |
| People | Number of custom fields | 100 |
| Organizations | Number of people linked to an organization | 3000 |
|  | Number of custom fields | 25 |
| Capture widgets | Number of fields in a form widget | 50 |
|  | Number of fields in a tracked form | 50 |
| Reports | Table report maximum rows when exporting as CSV | 500 |
|  | Ledger report maximum rows when exporting as CSV | 1000 |
| Activities | Number of activities displayed in the Activity feed | 100 |
| Data sources | Number of entries displayed in the Logs feed | 100 |
---
Campaign-specific limits
| Feature | Aspect | Limit |
| --- | --- | --- |
| SMS | Rate limit (number of SMS messages sent per second) | The rate limit depends on how many numbers you have purchased and the region from which you are sending SMS messages. View your limit via Settings > SMS > SMS limits and fallback. |
| Playbooks | Total amount of messages | No limit |
|  | Total amount of messages switched ON | 50 |
|  | Total amount of actions | 10 |
| Journeys | Total amount of shapes | 100 |
|  | Email shapes | No individual limit (included in total shape limit) |
|  | SMS shapes |  |
|  | Action shapes |  |
|  | Delay shapes |  |
|  | Condition shapes |  |
|  | Split shapes |  |
|  | Filter shapes | 20 |
---
Filter limits
| Feature | Aspect | Limit |
| --- | --- | --- |
| Filter | Total conditions per filter | 50 |
|  | Total activity conditions per filter | 15 |
---
Activity limits
| Feature | Aspect | Limit |
| --- | --- | --- |
| Website session and user session tracking | Pages tracked per session | 50 |
|  | Minimum session time out | 15 minutes |
|  | Maximum session time out | 12 hours |
| Attribution | Maximum attribution window | 1 |
| Data retention | Activity data retention period | Depends on your Ortto plan inclusions |
|  | Audience data retention (retention audiences) |  |