Checking and managing your plan
You can check your plan usage and key details at any time on the plan details page.
To access this page, click on your profile then click Plan and billing.
On your plan page, to make changes to your plan click Update plan.
---
View your plan
Your plan details can be accessed from the different tabs on your plan's page, as described below.
Overview
This section gives you the key details of your plan, feature limits and usage, billing cycle and contract dates.
Payment method
On this tab, if you are the account owner or admin you can edit the payment method and credit card details.
Should you need to set up a wire transfer, you will be directed to contact our team who can set this up for you. Switching from credit card payment to wire transfer payment requires approval from Ortto and if you are approved you will be provided with a new contract to sign.
Invoices
This section provides a list of invoices related to your subscription payments, including the invoice amount, date issued, and invoice status.
Click on an invoice's ID to view and download it.
Billing contact
This section identifies your primary and any secondary billing contacts, and your business address.
You can make changes to your billing contact/s by clicking Edit. In the Billing contacts popup, you can select a different Primary contact from the down-down menu (there can be only 1 primary billing contact), and add secondary billing contacts as required (such as if you need to include someone from your Finance department in invoice-related communications).
Signed agreements
When you make any changes to your plan a contract will be created. Each contract will be accessible from this tab.
Click on a contract's ID to open the contract. In the contract you'll see the key details and inclusions, including the contract's terms and conditions.
---
Plan usage and upgrades
This section covers how to apply add-ons and coupons, plan limits, and billing cycles.
How do I apply add-ons?
Each Ortto plan comes with a number of feature inclusions across campaigns, customer data, audiences, analytics, capture widgets, activities, users, and security.
If you want to send SMS messages, you'll need to add mobile numbers and SMS credits to your plan as add-ons.
Some included features can be expanded via add-ons, such as increasing your data retention storage limit, Talk seats for agents, or using a custom IP address.
You can choose add-ons when you select a plan. Simply click Select add-on, and for each add-on, input the quantity you need.
You'll see the add-ons listed along with your key plan inclusions in the right-hand subscription detail panel.
How to I apply a coupon?
If you have a coupon to apply to your plan, you can add it when you select a plan.
Simply click Add coupon, input the coupon code, then click OK.
You'll see the coupon applied in the right-hand subscription detail panel.
What happens when you exceed your contact limit?
Each plan has a number of included contacts. These contacts are covered in your monthly subscription fee.
If you exceed your contact limit, you will have 7 days to upgrade your plan to include a larger amount of contacts. If you don't update your plan within this time, your account will be restricted until you reduce the number of contacts (such as by archiving and deleting some until you are below your contact limit), or upgrade your plan.
If you exceed your contact limit, we will propose a plan update with a number of contacts that we think suits your needs (but of course you can choose your own amount of contacts when updating your plan). Once you've approved the upgrade, you will sign a new contract then proceed to payment via credit card or wire transfer (if approved by Ortto). Upon payment, plan upgrades will be applied immediately.
Auto-upgrade contacts
You also have the option to auto-upgrade your contact limit. When auto-upgrade is enabled, once you have exceeded your contact limit for 7 days:
We will automatically upgrade you to the next eligible plan and contact limit. 

You will be immediately billed the difference for the cost of the new contact limit.
As a result of this upgrade, depending on the number of contacts required, you may also need to update your plan type (as the number of contacts allowed on each plan is capped). However, to avoid automatically increasing the length of commitment you have signed up to, we will not automatically upgrade you from a plan with a month-to-month commitment to a plan with a yearly commitment. In this case, your account will enter a restricted state after 7 days, and you will need to manually upgrade your plan.
Auto-upgrade can be enabled or disabled from your plan's page, under Overview > Plan usage.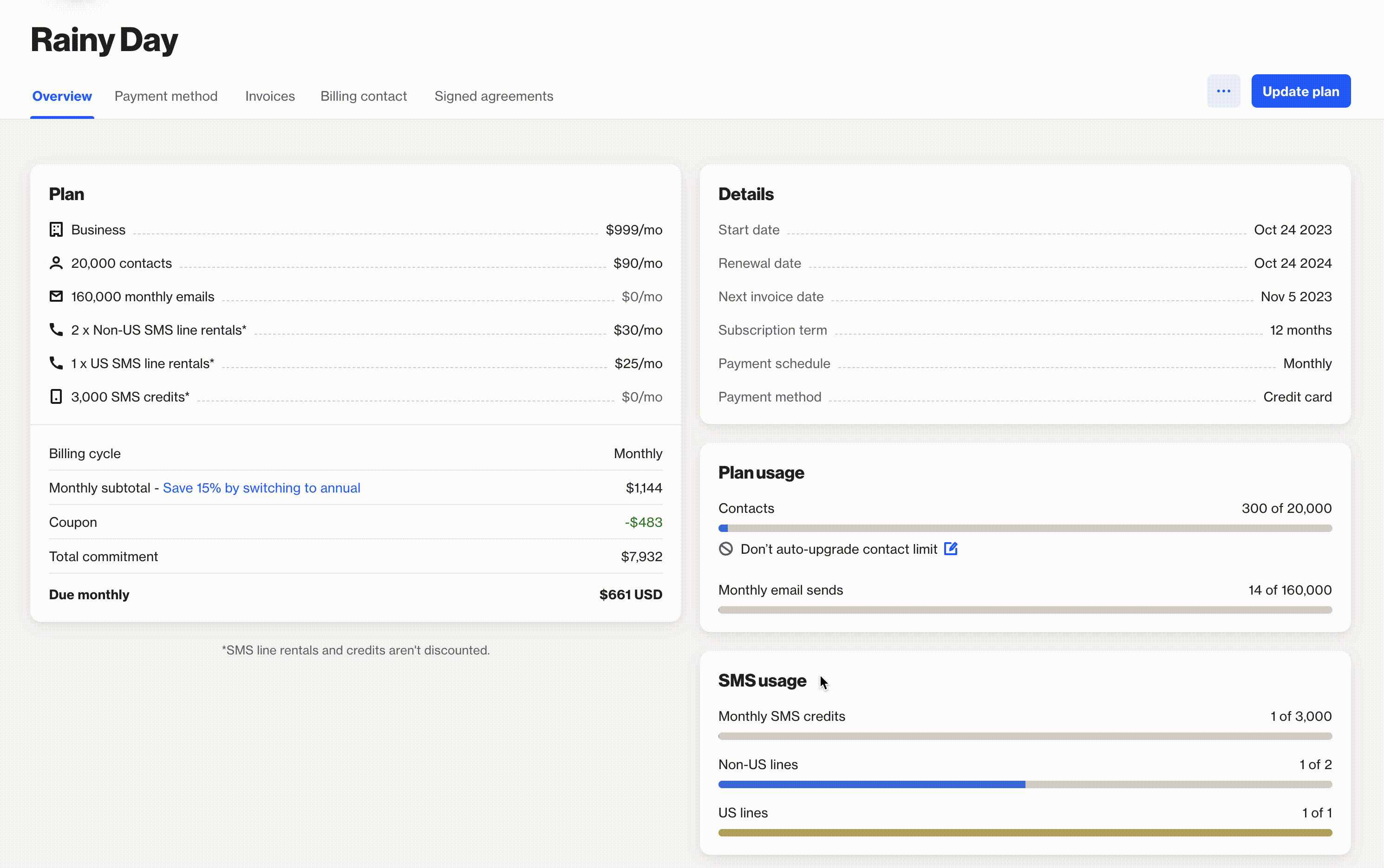 What happens when you exceed your email or SMS limit?
If you exceed your email and SMS credit limits, you will be charged an overage fee for that month on a unique overage invoice. You will be able to view the overage invoice at the Invoices tab on your plan details page.
Your emails and SMS messages will continue to send, except if you reach 2x your monthly SMS credit limit at which point your SMS sending will be stopped.
What happens if your account is restricted?
If you exceed your account limits for more than 7 days (and don't have auto-upgrade enabled) your account will be restricted. 
Some examples of exceeded account limits include:
Adding too many contacts to your CDP.

Creating too many dynamic reports. 

Creating too many custom activities.

Having too many active (switched ON) journeys.
NOTE: Exceeding your SMS credit limit or email sending limit won't contribute towards your account entering a restricted state because we charge an overage fee instead.
You can view your usage summary to check your account limits on your plan detail page. From the Overview tab, click View all usage.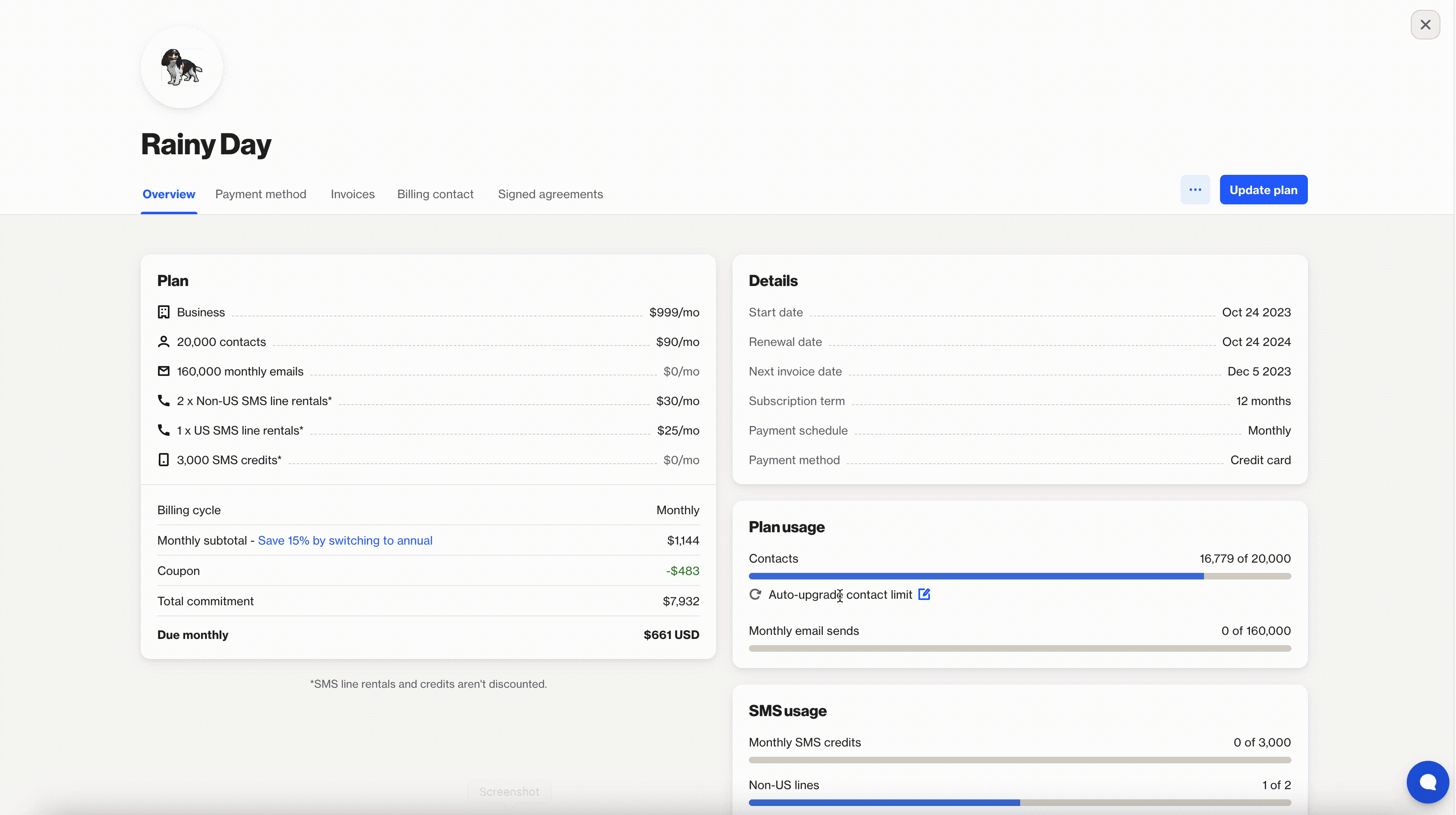 When an account is restricted, you will be unable to:
Create anything new, including campaigns and reports.

Add new contacts to your CDP (including via manual contact import, data source syncs, and capture widget submissions).

Save, switch ON, publish or send existing campaigns (any journeys or playbooks that are switched ON will be paused).

Receive new activity event data (we stop recording and importing contact activities).
To unlock your account, you need to either:
Upgrade your plan or increase specific feature limits (such as increasing your contact limit or selecting relevant add-ons). Or 

Update your account feature usage to stay within your account's limits (such as archiving/deleting contacts if you are over your contact limit, switching off unused journey campaigns, or deleting old reports).
Billing cycles
Subscriptions can be paid on a monthly, quarterly or annual basis.
There are discounts available for paying quarterly or annually. Note that these discounts apply for add-ons (such as additional activity storage or a larger email limit), except SMS phone numbers and extra credits.
How to pay with an invoice
To pay your Ortto plan using an invoice rather than with a credit card, you need to firstly contact our team to get approval to pay via wire transfer.
When you have been approved to pay via wire transfer, our team will prepare a contract for you to sign and begin your plan.
When your plan is underway, we will send invoices per your selected billing cycle (monthly, quarterly, or annually) to your billing contact/s for payment.
---
Downgrading your plan
When you downgrade your plan the changes will take effect at your next plan renewal date. If you are on an annual contract, you cannot downgrade within the contract term period.
If you initiate a downgrade, you have the option to revoke it while it is pending, which will keep you at your current plan and billing rate.
NOTE: You will not be able to downgrade your plan within 30 days of the renewal date when you are on an annual commitment.