Managing reports
Once you have created a report, you can view and edit the report, duplicate it, as well as archive and delete it through the Reports page.
---
View and edit a report
The Reports page shows all your reports. Click on a report to view it in more detail.
You can also filter the reports you see on this page by clicking All then select the report type you wish to view.
When viewing a report, click:
Edit to make changes to the report metrics and settings.

Pin to dashboard to add the report to one of your dashboards.

More to access a range of sharing and management options.
---
Receive Slack notifications for reports
If you have Slack connected to your Ortto account, you can send updates to your dynamic reports to a Slack channel of your choice.
To enable Slack notifications:
On the 

Reports page

, click on the name of a dynamic report you want notifications for.

In the report view, click More > Slack notifications.

Click ON, connect Slack if required, then configure the notifications as required:

Select the Slack channel to send report updates to.

Choose your Report timeframe.

Set the Frequency (daily including or excluding weekends, or weekly or monthly on a particular day) and Time. The day and time notifications are sent is in accordance with the timezone you have set in your account (under Settings > General > Timezone).

Write a Message if required, such as the name of the report or instructions for your team.

Click Done.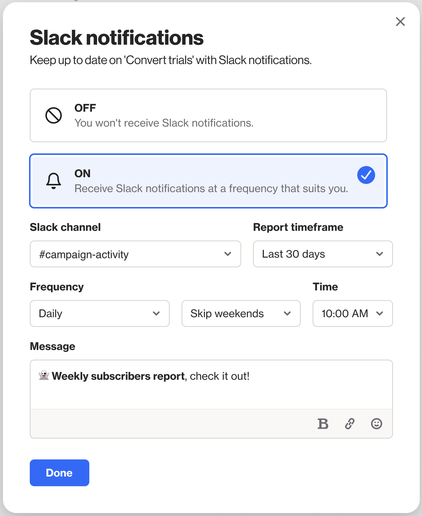 Once setup, you will receive report notifications in the relevant Slack channel. The notifications will contain any message you included in the setup, an image of your report, and a link to view the report.
---
Archive and delete reports
To archive a report:
On the 

Reports page

, click the  more icon for the report you wish to archive.

Click Archive, then OK to confirm.
Once a report is archived, it can be restored or deleted.
To restore or delete a report:
In the archived reports list, select the checkbox or the  more icon next to the report.

Select Restore or Delete as required.